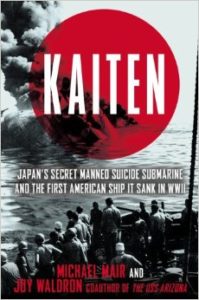 "Kaiten" available in softcover from the author, Mike Mair www.ussmississinewa.com.
In November 1944, the U.S. Navy fleet lay at anchor in Ulithi Harbor, deep in the Pacific Ocean, when the oiler USS Mississinewa erupted in a ball of flames. Japan's secret weapon, the Kaiten—a manned suicide submarine—had succeeded in its first mission.
In Kaiten, Michael Mair and Joy Waldron tell the full story from both sides, from the strategic importance of the USS Mississinewa to newly revealed secrets of the Kaiten development and training schools. U.S. Navy survivors recount their gripping experiences in the wake of the attack, as well as the harrowing recovery efforts that came later. Japanese pilots reveal their terrifying experiences training to die for their country and Emperor, never knowing when their moment of doom would come. 363 pages
Visit USSMississinewa.com to see more details about this little known WWII event.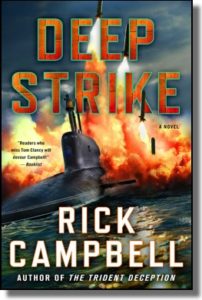 Go to Amazon.com, Barnes and Noble, or CostCo to get Rick Campbell's novels, The Trident Deception, Empire Rising, and Ice Station Nautilus, Blackmail, Treason, and coming March 2021, Deep Strike.
A native of Cocoa, Florida, Rick attended the United States Naval Academy in Annapolis, Maryland, and spent over thirty years in the Navy. His tours of duty include four nuclear powered submarines, the Pentagon, and the Undersea Weapons Program Office. On his last submarine, he was one of the two men whose permission was required to launch its twenty-four nuclear warhead-tipped missiles.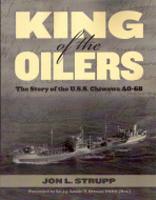 King of the Oilers: The Story of the U.S.S. Chiwawa, AO-68
Contact author Jon Strupp, at j_strupp@hotmail.com